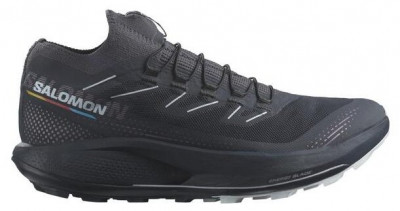 Salomon Pulsar Trail Pro 2 Shoe - Women

0 reviews
You just signed up for your first ultra, didn't you? Once you're over the thought of, "oh no, what have I done?" it's time to start thinking about gear. First up - shoes! The Salomon Pulsar Trail 2 Pro shoe is a great place to begin. The highly cushioned midsole is made of EVA and Olefin [OBC], neither of which material we know down to the molecular level, but it definitely keeps up its bounciness over many miles. Sandwiched in that knee-saving midsole is a TPU plate, AKA an Energy Blade. In essence, it's a piece of plastic that helps maximize your effort with every stride to help make mile 30 feel somewhat like mile 1 (mood dependent of course). No doubt you will come across all sorts of terrain out there: smooth-single track, annoyingly trenched double-track, gravel roads, rocks, roots, streams, cliffs, grassy pastures, and mud wallows. The list goes on. The ability of the All-Terrain Contragrip outsole also goes on to cover just about anything you encounter. The 3.5mm lug depth is enough to grab in sticky situations but smooth enough to give great efficiency when you're in cruise mode. For those more chossy parts of the run, the sock-like gaiter closure will keep debris out so you won't have to be that person on the side of the trail looking inside their shoe for an offensive pebble. A real workhorse, but not a one-trick pony, the Pulsar Trail 2 Pro shoe from Salomon is an incredibly well-rounded shoe for those venturing into longer days on the trail.
SkyRun Fit Tip - For the best fit, we recommend sizing down by ½ US size.
Energy Surge midsole combines EVA with Olefin for long-lasting cushion
TPU Energy Blade creates added propulsion and energy return with each stride.
All-Terrain Contagrip oustole is a true do-it-all approach to lug depth and geometry.
Soft collar construction is comfortable on long days and helps keep your shoes debris-free.
Quicklace closure system stays put the first time you lace up your shoes.
Specifications
Weight
convert to ounces
236g [8.0]
Weight (pair)
472g [8.0]
Lug Depth
4.0mm
Drop
6mm
Stack Height
33mm
Specs Verified
Yes
Design
Outsole
All Purpose Contagrip®
Fit
Medium Volume
Last
Medium
Cushion
High
Protection
Medium / Low
Lacing System
Quicklace
SkyRun Says
Usage
Ultras, long days
Notes
TPU Energy Blade helps with propulsion and energy savings
Bottom Line
Ready to race, ready to chill, ready to go out any time you are
Compare to other Womens Distance Shoes
Questions & Reviews
Earn store credit by writing reviews. Learn more.

Model: Pulsar Trail Pro/2 Women