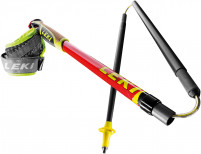 Poles increase efficiency on trail but only if they're not weighing you down! So when every gram counts, reach for Leki's ultra-lightweight Micro Trail Race. Starting with a full carbon construction, the fixed length cuts unnecessary weight and parts so the poles can be as streamlined as you are. Leki's new, wide Shark Frame Strap Mesh is breathable and optimizes fit. Combined with..
$199.95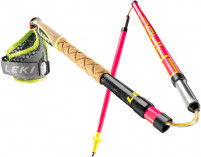 Treading the line between ultralight and fully featured, Leki has hit the sweet spot with the Leki Micro Trail Pro. It's light as a feather for all your endurance and racing needs but adds on an extended cork grip and an ever-so-slightly beefier shaft construction. No more hemming and hawing over which poles to bring! The Trigger Shark 2.0 System and Frame Strap Mesh combine togeth..
$199.95


You know what sucks? Breaking poles. The Les Batons d'Alain is a single shaft pole that is designed to withstand some serious trail abuse. Crafted in the steep valley of Chamonix, this iconic pole was brought into the world by Mountain Guide Alain Desez. They have seen a surge in popularity within the ski mountaineering community but they're just as useful for mountain running. Wit..
$139.95