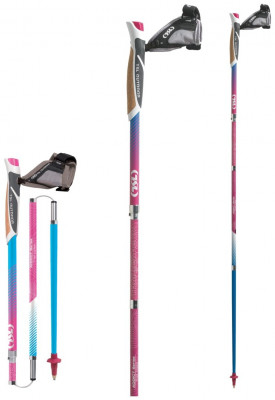 TSL Trail Carbon 4 Sky Pole

0 reviews
The evolution of the running pole is quite simple. Ancient peoples used sticks and now we have carbon fiber, collapsible versions. There were some other iterations in between, but now TSL has their Trail Carbon 4 Sky running pole to show just how far we have come. Utilizing a variety of grip and strap options, these French adventurers have explored far and wide and, on the way, have used their experiences to create the ultimate trail running pole. Traveling high in the French Alps from their hometown of Annecy, those working for TSL are encouraged to go on a spirit quest to help define the best designs, materials, and technologies that exist in the running pole category. Thank goodness because the ST Strap system on the Cork and Cork Cross poles surely came out of a feverish dream. This Velcro closure strap easily disengages from the pole grip with the push of a button. To reattach to the pole and get on your way the strap is guided by a magnet and simply clicks in place to make for incredibly smooth transitions. Whether you choose standard-length cork or extended-length cork (aka Cork Cross) grips, you will be holding on to an amazing piece of running gear with TSL's Trail Carbon 4 Sky running poles.
Magnetic button on the ST Strap System helps you easily find the attachment point when bringing the strap and pole together.
3-piece design collapses down to 38cm for easy storage on running vests and packs.
Carbon fiber 16mm upper and 14mm lower cuts weight while maintaining strength.
ST Strap system is easily adjustable for high levels of comfort and security.
Carrying case included to keep you from losing one under your car seat.
Specifications
Lengths (cm)
100, 105, 110, 115, 120
Weight
convert to ounces
198g [120cm]
Weight (pair)
396g [120cm]
Collapsed Length
38cm
Sections
3
Grip
Cork or foam
Basket & Tip
Standard tip, round basket
Diameter
16mm upper,
14mm lower
Specs Verified
Yes
Design
Materials
Carbon
Strap
ST Strap system or nylon loop
SkyRun Says
Usage
Trail running, sky running
Notes
Grip options help you dial in your gear
Bottom Line
Innovative strap system meets solid carbon running pole
Compare to other Running Poles
Questions & Reviews
Earn store credit by writing reviews. Learn more.

Model: TRAIL CARBON 4 SKY