SCARPA Running Shoes

SCARPA is an Italian manufacturer that has been creating mountain footwear since 1938. Needless to say, they know a thing or two about keeping feet happy and we're proud to carry their running shoes.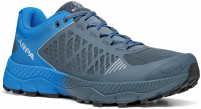 Scarpa has been in the business of making trail-romping, peak-bagging, snow-schussing, cliff-scaling footwear for decades now, so naturally these folks know a thing or two about what it takes to keep your feet happy in the hills. The Scarpa Spin Ultra is ..


You're really going to have to put these shoes through the wringer before they flinch. Until then, the Scarpa Spin Ultra shoes will continue to shrug off rough terrain, annoying rocks, pointy sticks, and any trail debris that would deter other shoes. Afte..