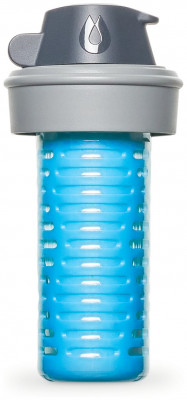 HydraPak Filter Cap

0 reviews
$34.95
In Stock & Ships Today
So, you hit the trail with your HydraPak UltraFlask Speed, or SkyFlask handheld and just ran out of water. What now? Bust out your Filter Cap, fill up your flask from your nearest water source, screw the filter into place, and hydrate! This nifty little bugger turns your boring old flask into a full-on water filter. This is a compact, lightweight option to keep you in the water game on long runs where you don't want to carry liters upon liters of water. No worries about picking up Beaver Fever out there, this cap filters out protozoa to keep you healthy and happy. Keep on chugging that water, you can filter around 1,500 liters through this thing before replacement. And coming in under 60g you won't even know it's along for the ride. Stay hydrated no matter where your travels take you with HyrdaPak's 42mm Filter Cap.
Filters out protozoa for clean, healthy water.
Screws onto your UltraFlask Speed or SkyFlask for convenient filtration on the go.
Capacity to filter approximately 1,500 liters of water before replacement.
Super lightweight and compact for easy storage.
Specifications
Weight
convert to ounces
42g
Length
115mm [4.5in]
Dimensions
50mm [2.0in] diameter
Specs Verified
Yes
Design
Materials
TPU, PP/POM, ABS, Hollow Fiber
SkyRun Says
Usage
On-the-go filtration for long days
Notes
Works with the UltraFlask Speed and SkyFlask products from HydraPak
Bottom Line
Super light and compact so you can stay hydrated without an excuse
Questions & Reviews
Earn store credit by writing reviews. Learn more.

Model: 42mm Filter Cap
MPN: F03
UPC: 834456003236