SCOTT Supertrac RC 2 Shoe

3 reviews
$169.95
In Stock & Ships Today
When you think skyrunning shoes, the Supertrac RC 2 is what should come to mind. The original version was already the go-to classic in the ridge-traversing, rock-scrambling, steep-sprinting technical running world but SCOTT tweaked the outsole and uppers for even higher performance in challenging terrain. The innovative Radial Traction outsole positions the ground-biting lugs in a circle so that no matter which angle your foot lands, the shoe finds incredible grip. This is critical when you're moving quickly and the path ahead is anything but smooth and easygoing. The uppers combine two genius materials from the folks at Schoeller - coldblack and 3XDRY - for unparalleled comfort and protection. The coldblack prevents heat absorption from the sun while the 3XDRY wicks internal perspiration and shuns external moisture. This shoe is built with SCOTT's signature eRide rocker geometry. Regardless of how you naturally run, the eRide promotes a more dynamic running position that helps you get the most out of every step. Similarly, the designers incorporated their proven AeroFoam+ cushion that provides stability and dynamic rebound for efficient stride so that you can put away even more miles. The SCOTT Supertrac RC 2 shoes are the proven choice for mountain runners craving rowdy trails and even rowdier off trail adventures.
SkyRun Fit Tip - We suggest ordering the Supertrac RC 2 in your usual US shoe size for a proper fit.
• Radial Traction grips on every type of terrain - even snow and ice!
• eRide rocker geometry improves running efficiency, no matter your natural gait.
• Uppers take advantage of Schoeller technology to manage heat and moisture so you can keep cruising in comfort.
• AeroFoam+ and toe guard protect the feet on the burliest of trails
Specifications
Weight
convert to ounces
280g [10.0]
Weight (pair)
560g [10.0]
Lug Depth
6.0mm
Drop
5mm
Stack Height
22.5mm
Specs Verified
Yes
Design
Outsole
Radial Traction
Fit
Medium / Low Volume
Last
Medium / Narrow
Cushion
Medium
Protection
Medium
Lacing System
Traditional
SkyRun Says
Usage
Technical terrain, middle distance
Notes
Radial traction has excellent grip in all directions
Bottom Line
A solid mountain runner
Compare to other Mountain Running Shoes
Questions & Reviews
I am currently on my second pair of these. Had a slight issue with heel slip, until I did the bunny ears lacing trick. That locked down the heel perfectly. I use this shoe primarily for slogging up steep and bombing down mountain style trails. Technical, rocky and steep is where this shoe performs at its best. The traction on this shoe gives you great confidence. I am 5'11" 150lbs and pound on these shoes pretty hard. I get about 250 miles out of mine until the hard ground starts to wear on my traction.
Comment on this review:


I really wish this shoe would have a better heel lockdown. Don't get me wrong. I can get it locked down fiddling with different types of lacing methods and tightness, and I've tried going down half a size...this solves the heel lock but then when doing long downhill sessions up at treeline the toe box causes rubbing on the top of my big toe. So no go on down sizing half a size. But, when I can get the lacing dialed in properly, which is the only reason they aren't a 5 star shoe, this thing makes me feel like a gecko. I just did a 4 hours run up in the San Juan mountains in Colorado...somewhat muddy trails to start at 8800ft, wet rocks, mud, roots this shoe is great. But after soaking them in a creek crossing then climbing 3700ft in 2.5 miles these things came into their own. I went from sun and t shirt weather to graupel them full on snowstorm up in the clouds at over 12k ft. Going up crazy wet and muddy and snowy scree slopes these things still provides great traction (as good as you can get on scree at least) and more importantly, great protection not only underfoot, but the uppers were also protective. I'd probably wear these for up to maybe 50 miles, not much more though before I'd opt foraybe the ultra version of the shoe just for a little more foam when going longer. However for runs of 8 or less hours, these are my new fav shoe. I've put in some decent shorter runs in these and some some hill work going up and down ski runs. I hadn't had the issue with the foam failing the other reviewer did. I have maybe 100 miles in the shoes at this point...the tread seems like it will hold up for at least another 200 or more.
Comment on this review: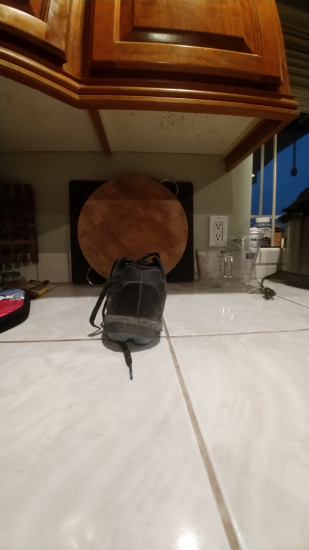 These shoes were amazing until they completely broke down. The traction and comfort was top notch. I raced one 50k in them and was using them for my technical running. Not much wear on the soles and the uppers are in good condition. 114 miles the foam just collapsed on the shoes. I was in the middle of a twenty mile run when my feet started hurting. Didn't think much about it, thought the rocky trail was wearing on me. When I took them off they were compressed in and just twisted and crooked in both shoes. If you want to check them out I'll ship them to you. Pictures don't do them justice. Scott should see them also. 114 documented miles before failure. To bad, they were amazing shoes while they lasted.
Comment on this review:


How is the sizing on these? I usually wear a size 11 in S-lab shoes.
Hey Tuju, thanks for the question. Unfortunately, since we don't carry the S-Lab shoes we can't give a super direct comparison, but it seems like the S-lab shoes run quite similar to the Supertrac RC 2's so I would try the same Euro size. Overall they are a pretty amazing shoe! Feel free to reach out with more questions at help@skimo.co.
Answer this question:


Earn store credit by writing reviews. Learn more.

Model: Supertrac RC 2