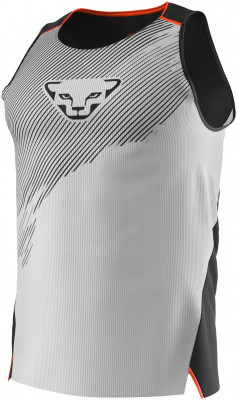 Dynafit DNA Tank

0 reviews
Whether you know them as singlets, bibs, pinnies, tanks, or some other term, sleeveless sports tops are a time-honored look calibrated towards heat shedding and bicep display. If you're a current or wannabe victim of the Sleeve Monster, you are likely a worthy candidate for the Dynafit DNA tank. Rather than relying solely on its sleevelessness to shed weight and keep you cool, this tank uses thin material and Active Airflow Ventilation to remove heat produced by active movement. This means that small holes have been imprinted throughout the fabric to facilitate convection. The synthetic fibers are also treated with HEIQ Fresh to form an anti-microbial barrier, doing a commendable job of reducing the post-run funk, with which runners have such a love-hate relationship. With nifty graphics, an athletic fit, and small cutouts to avoid restricting motion, the DNA tank is an essential component for race day readiness.
Moisture-wicking fabric produces a cooling effect by transporting perspiration away from the skin to be evaporated.
Extremely lightweight to free skin from the burden of heavier, clingier shirts.
Ventilation holes promote helpful heat exchange.
Anti-odor weave means you smell as fresh as you look.
Reflective details attract the attention of admiring spectators and jealous rivals.
Specifications
Weight
convert to ounces
63g
Ventilation
Active Airflow Ventilation
Specs Verified
Yes
Design
Fit
Athletic
Materials
90% recycled polyester, 5% polyester, 5% elastane
Coating
HEIQ Fresh
SkyRun Says
Usage
Racing, feeling fast
Notes
Open seams at the waist facilitate additional airflow
Bottom Line
Lightweight and efficient tank
Compare to other Men's Running Shirts
Questions & Reviews
Earn store credit by writing reviews. Learn more.

Model: DNA M TANK
MPN: 71434