Maurten Fuel

Maurten has expanded its influence all over the world since its inception in Sweden. Known for clean, effective fuel options, Maurten is dedicated to fueling your body in a way that will help you perform at your absolute best. Based solely on natural ingredients, the Maurten line delivers carbohydrates in a way your body can handle. What Maurten doesn't do is add flavoring or coloring, so you know you're taking a clean product on board. Fuel for your best days, Maurten sets a high standard of excellence in the nutrition field.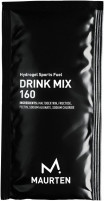 Hydrogel Technology is what sets Maurten products apart. Their drink mix is as simple in name as it is in ingredients. Packing either 160 or 320 calories per satchel, this mix will deliver carbohydrates to your system faster than a USPS driver in a Ferrar..
From $2.70




No, your taste buds haven't abandoned you, it's just that you are fully enjoying the experience of Maurten's Gel which just happens to be flavorless. Perfect for picky eaters, this gel is also for anyone who wants to perform at their best. Hydrogel Techno..
From $3.90



Time to raise the bar! Too simple of a catchphrase? Simple is what Maurten Solid nutrition bar is all about. Building on their approach to drink mixes and gels, the nutritional wizards in Sweden decided to expand their horizon to include their Solid bars...
$3.00