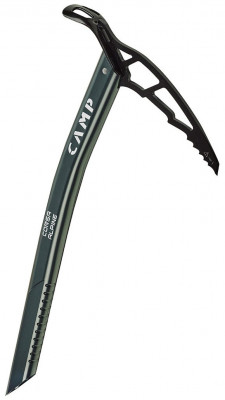 CAMP Corsa Alpine Ice Axe

0 reviews
Sometimes your skyrun will take you places the average runner (or hiker) seldom accesses. Snowfields, ice sheets, and glaciers are all alpine obstacles that may lie in the path of your run, and there is hardly a better tool for runners to handle adverse frozen terrain than the CAMP Corsa Alpine Ice Axe. Compared to similar axes, the CAMP Corsa and Corsa Race axes, the Corsa Alpine is tailored for more general mountaineering purposes than just self-arresting. The durable, all-steel pick is narrower for better penetration into hard ice, and a curve in the shaft makes the tool easier to swing with force. As a result, the Corsa Alpine Axe is capable of climbing moderate pitches of firm snow, as well as, stopping yourself during accidental "gravity tests." Don't shy away from exciting runs, grab the CAMP Corsa Alpine Ice Axe and be ready for anything!
Non-welded aluminum and steel construction is lightweight yet reliable.
Plug in the spike keeps snow out of the shaft.
Pick is shaped for better penetration into ice and hard snow.
Curved shaft provides a more efficient and ergonomic swing.
Machined grooves on the bottom of the shaft offer improved grip.
Specifications
Lengths (cm)
45, 55, 65
Weight
convert to ounces
245g [45]
298g [65]
Specs Verified
Yes
Design
Materials
Steel head and 1.3 mm 7075 Aluminum shaft
Questions & Reviews
Earn store credit by writing reviews. Learn more.

Model: Corsa Alpine