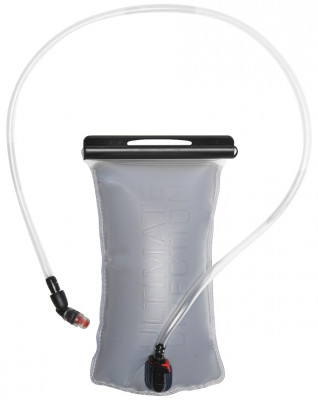 Ultimate Direction Reservoir

0 reviews
Do you ever think to yourself midrun, "Gosh, I could really go for a massive milkshake right now!" Well, enter the Ultimate Direction Reservoir. While we don't necessarily recommend topping it off with frozen desserts, you can if you want because the bladder is just that versatile. It's easy to clean and fits well into most packs, though it will work best in a bag that is in the 10L+ range. So go on, fill up your Ultimate Direction Reservoir with whatever you want to fuel your adventures, and hit the trails!
No mess with the extremely secure top seal.
Once the hose is removed, the lower valve automatically closes.
Certified BPA Free throughout the reservoir.
The Hypervalve Hose allows for consistent flow from the main reservoir.
In case you prefer to measure liquids in liters, 50oz = 1.47868L and 70oz = 2.07015L.
Questions & Reviews
Earn store credit by writing reviews. Learn more.

Model: Reservoir 50, 70, 100