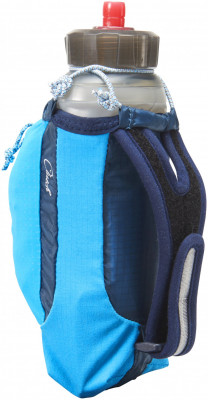 Ultimate Direction Clutch

1 review
The classic "clutch" has always been to carry just the essentials. This concept applies to Ultimate Direction's Clutch as well. Bring only what you need, leave behind everything that can weigh you down. With a 500ml capacity you can stay hydrated while on that shorter outing. Since going hard is more inevitable than possible you can stash some nutrition in the zippered pocket to keep you fueled. The removable soft flask combined with an adjustable hook and loop strap will fit in your hand like a babe in a cradle. Liquids are easy to access with a pop-top style bite valve. Simple, secure, sure to make your training run or race a breeze Ultimate Direction's Clutch is all about keeping it simple.
500ml soft flask holds enough liquid to keep you on the move for a bit.
0.2l zippered pocket can hold some nutrition, keys, or cash for that post run ice-cream.
Adjustable hook and loop strap will allow you to customize the fit to your hand.
Bungee retention system keeps the soft flask where it should be.
Breathable strap keeps your hands happy on warm days.
Reflective accents help keep you visible on the road or trail.
Questions & Reviews
The Clutch zipper version is one of my favorite UD products. Holds a flask well when full or empty, and room for some blocks and keys. Be sure to practice filling with air before filling at aid, because the fit is a bit tight.
Comment on this review:


Earn store credit by writing reviews. Learn more.

Model: Clutch