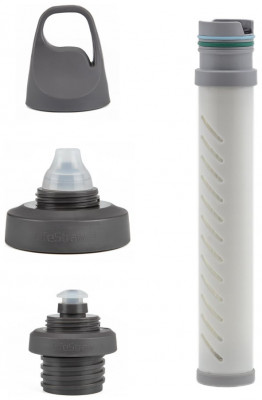 LifeStraw Universal Bottle Filter Adapter Kit

0 reviews
The only thing more aggravating than lugging water in the backcountry is running out of it. The next time you head deep into the backcountry, you can convert your favorite water bottle to a filter using LifeStraw's Universal Water Bottle Adapter Kit. This kit includes wide and narrow caps, standard and sports mouthpieces, and a leakproof lid to effectively screw onto bottles at least 7.3 inches in height. First, the water passes through a replaceable membrane microfilter to remove 99.99% of bacteria, microbes, and microplastics. Then, a carbon-activated filter improves water flavor by eliminating chlorine and chemical pollutants. Master the element of water by using the LifeStraw Universal Water Bottle Adapter Kit.
Kit comprises of water filter, mouth caps, mouthpieces, and leak-proof lid, ensuring the filtered water ends up in your mouth rather than on the ground.
Independent lab tests and US EPA and NSF Protocol 231 standards demonstrate this adapter kit removes 99.999999% of bacteria, parasites, microplastics, silt, sand, and cloudiness. This gives your white blood cells a safety cushion the next time you decide to drink out of that tempting murky puddle.
Membrane microfilter lasts up to 4,000 liters and activated carbon filter lasts up to 100 liters so you can provide water for the whole family or a single thirsty pack animal.
Kit components are BPA Free and dishwasher safe upon removal of the filters, reducing the buildup of trail dust and plastic accumulation in your digestive system.
Lifestraw is a B-Corp and Climate Neutral certified brand so you can breathe and drink easy simultaneously.
Specifications
Weight
convert to ounces
79g [Large adapter and filter]
Length
22.5cm
Specs Verified
Yes
SkyRun Says
Notes
Multiple adapters make this system very versatile
Bottom Line
Turn your favorite bottle into a filtration system
Questions & Reviews
Earn store credit by writing reviews. Learn more.

Model: Universal Water Filter Bottle Adapter Kit
MPN: LSUN02FK01
UPC: 7640144283858