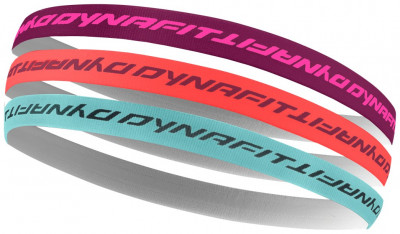 Dynafit Running Hairband

0 reviews
As much fun as it is to have hair flying in your face, blocking your view, and getting in your mouth, why not just curb that issue with Dynafit's Running hairbands? This handy 3-pack helps you pick the perfect color of the day and also extends your washing cycle. These eye-popping colors are a retro way to stay visible and keep your face hair free (unless you have a beard and count your eyebrows). The inside rocks a silicone band to keep this headband right where you want it. Combined with a stretchy material you have a nice combo of comfort and functionality. Never lose sight of the trail in front of you with Dynafit's Running hairbands.
Silicone band on the inside holds this piece in place.
Stretchy material fits your dome comfortably.
Bright colors are cool and visible.
Specifications
Weight
convert to ounces
7g
Design
Materials
90% polyester
10% elastane
SkyRun Says
Usage
Hot, sweaty days
Notes
Silicone band holds it in place
Bottom Line
Minimal headband for maximum effect
Questions & Reviews
Earn store credit by writing reviews. Learn more.

MPN: 70845
UPC: 4053866345705