Sidas Running Footbeds

Originating in France in 1975, the inspiration came during a walk on the beach. Looking at a footprint in the sand, it dawned upon co-founder Loïc David that just like fingerprints every footprint was unique. From that realization, Sidas has grown to become a leader in innovation when it comes to supporting the feet that support us. From skiing to running and many sports in between, Sidas works closely with top athletes to dial in fit and function for each activity.


SIDAS doesn't want anything to get in your way when you're out on the trail, including your insoles! With their 3Feet Run Sense insoles they have created a low profile insert that is tailored to your arch height and natural stride. No overcorrecting, SIDA..
$54.95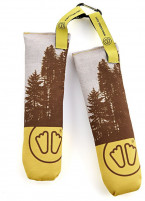 It just happens: footwear gets nasty. You may smell like roses, but your feet tend to stray from that path. You can revive your footwear and save the room from smelling like a locker room with SIDAS's Cedar Wood Dryer Bags. They absorb moisture while leav..
$19.95